Jump to section:
What does my web hosting fee pay for?
'What is web hosting? Why do I need it?'
This is one of the most common questions we get from clients. And we wanted to answer that for you! It's simple: website hosting or web hosting is a home for your website to live. Without hosting, your website doesn't exist on the internet.
Essentially, your website is made up of a bunch of files, and those files are stored on a physical server through your web hosting company. That server with your website files connects directly to the internet, so when someone types in your website URL, those files are fetched and appear in that visitor's browser in the form of your website.
Without that server, there's no way for your website to connect to the internet.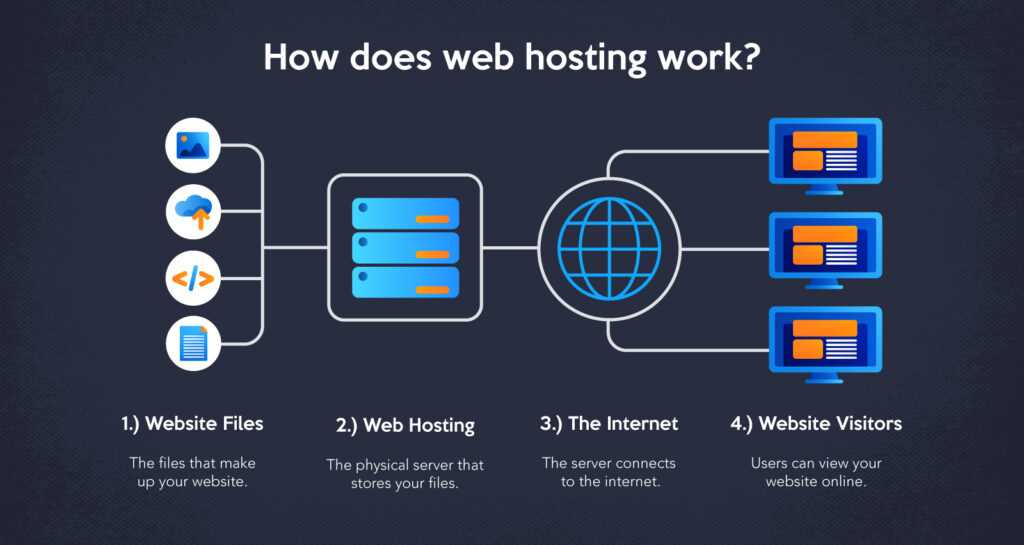 So what goes into my web hosting fee then?
Paying for hosting is like paying for rent at a nice apartment. We take care of the security, maintenance, snow removal, underground parking, and mowing. And when something like the refrigerator breaks down, we're there to fix it right away.
When you pay your annual hosting fee, you're not just paying rent. You're paying for a year's worth of services and features that ensure your website is up and running at its best.
Hosting with us includes:
SSL Certificate
Bi-Annual Website Updates
Website Maintenance
File Storage
Daily Website Backups
Reliable Connectivity
Some of these services might not seem that important, but we can assure you that maintaining best practices for our websites isn't just for our business, it's for your customer's experience as well!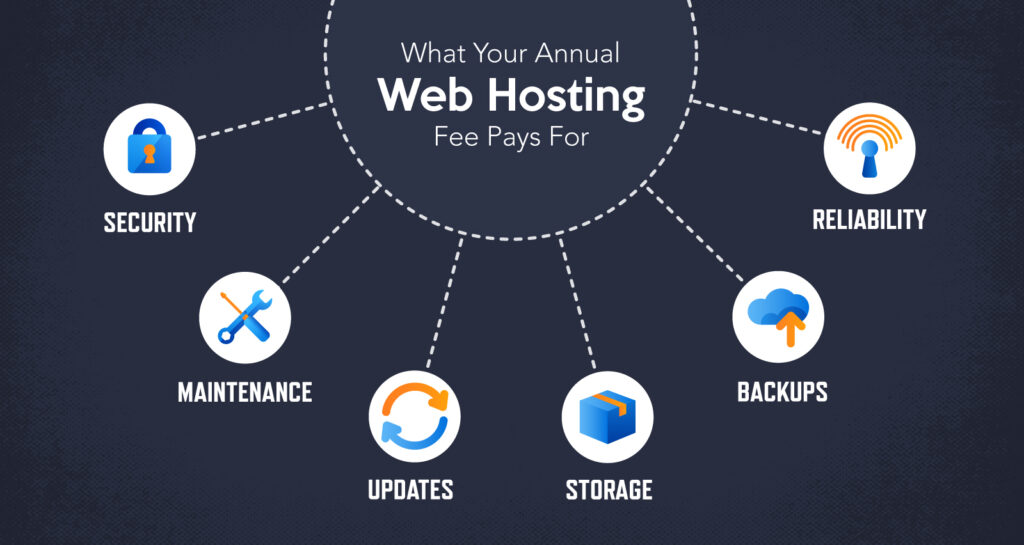 What's an SSL Certificate? Why does my website need one?
SSL certificates are commonly used on e-commerce websites, but if you're handling your customer's data through sign-up or contact forms, you need to keep their information secure.
SSL Certificates are otherwise known as Secure Sockets Layer, which protects not only your personal information but that of your customers as well. In fact, SSL Certificates are so important that without one Google will view your website as untrustworthy, and will rank you lower because of it.
The annual hosting fee goes towards renewing your SSL Certificate every year, so you don't have to worry if your website is secure or not because it always will be!
What is included in Website Maintenance? Do I really need it after my website is done being built?
The internet is constantly changing, we download updates to keep our phones and computers secure and in proper working order. If we don't update software, we can run into problems later on like hardware malfunctions, glitches, and holes in security.
Updates very rarely can break your website, making it inaccessible to your customers. When you pay for annual hosting, if anything at all goes wrong with your website updates, we maintain 24-hour backups just in case. So while we fix any trouble on the backend, your website is still available online.
What kinds of files are being hosted and what do they have to do with my website?
When you break it down, a website really is just a bunch of organized images and HTML files. Depending on the hosting services, they can charge you for more space for your website. So if you have a lot of photos or even just a lot of content like video or blogs, you may have to pay for more storage.
This may also affect your website speed. A good hosting service will ensure that your website is running efficiently. But if the hosting is bogging it down, it can affect your customer's user experience and even your Google ranking.
We host all of our websites on Flywheel, one of the most trusted hosting providers for thousands of business and personal websites. So you don't need to worry about file storage or website speed.
What if I find a cheaper place to store my website?
Because we're an agency partner through Flywheel, you also get to enjoy the benefits of an award-winning hosting service.
But if you aren't, we can't guarantee website security, updates, maintenance, or backups. Those would be features you may have to pay for separately on whatever platform you are using. That said, if you find a more affordable option that works for you, we will gladly help you migrate your website files.
Happy clients are important to us! We take a lot of pride in streamlining website hosting and maintenance so that you can focus on more important aspects of your life, like your business.
If you have more questions about hosting, feel free to get in touch! Give us a call at 605-467-7473 (INSPIRE), or connect with Josh!